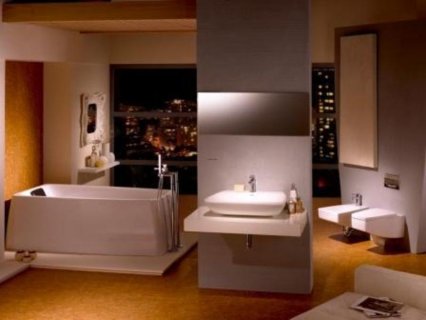 Jacuzzi bath Design
Chino Hills, CA – (March 1, 2011) – We all deserve a private place where we can relax in comfort, let go of tension, recharge our batteries and emerge refreshed and energized. Many busy homeowners are remodeling their bathrooms into a retreat where they can daydream, read, or listen to music.
The latest in water retreats
Ideal home spas are not complete without whirlpool bathtubs. You can find jetted bathtubs in virtually any shape, size and color. Amenities include such features as air flow adjustability, quiet motors, control panels, heated liners and even underwater lighting systems. The latest models are also equipped with adjustable jet systems that can target specific areas to soothe tight muscles and aching joints.
A popular alternative are air bathtubs, which use millions of effervescent bubbles to create a delicate curtain of heated air that rises through the water. The result is a gentle, soothing experience, more of a caress than a massage. Unlike in standard whirlpools, salts and aromatic oils can be used in an air bath.
For the best of both worlds, choose a combination water retreat such as Jacuzzi's Salon Spa, which can deliver the therapeutic benefits of a whirlpool or the calming effects of an air bath.
Designer showers
Steam showers, too, have evolved into multi-faceted systems. According to designer John Hall, who carries several new Jacuzzi models in his new Cleveland showroom. "A shower steam unit is one of the key elements in transforming your bathroom into a complete spa.
"One of the nice things is that, after a hard day of work or exercise, you can come home and step into steam, " says Hall, who recommends installing adjustable heads that direct the spray to different levels. That way, if you're running late and don't have time to wash and dry your hair, you can point the spray low enough that your head stays dry. Many of Hall's clients also like placing the heads above the shower so they can enjoy a rainfall effect.
Create the ultimate ambiance
To transform a standard bathroom into a luxurious oasis, think beyond the water features. Design elements such as cabinetry, color, light, sound and your choice of flooring – slate, marble or natural tile, for example – also shape the spa experience. Accessories run from the merely functional (non-misting mirrors) to the indulgent: radiant heated floors, towel warming drawers, even a fireplace.
You might also like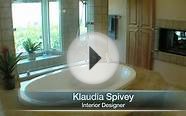 Luxury Whirlpool Baths - Interior Designer testimonial ...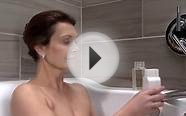 Kohler - Elevance Rising Wall Bath - Aging in Place Design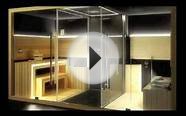 Reme_Jacuzzi_Sasha.mov
Lavender Palmarosa Aromatherapy Bath Crystals -19 Oz- Natural Aroma Therapy Dead Sea Salts for Hot Tubs, Spas & Whirlpools


Beauty (Relax Spa & Bath)




Lavender Palmarosa - 19 Oz Bottle - All Natural, Aromatherapy Bath Crystals - Create Your Own Paradise With A Hint Of Lavender
Powerful Aromatherapy with Natural Coloring - Enhances Relaxation - Vitamin Enfused
Remedy for Aches & Pains - Reduce Tension & Stress - Enhance Self-Healing & Detoxify
Skin Softening Moisturizers - For Spas, Hot Tubs, Jacuzzi, & Whirlpool Bath - Spa Safe
Does Not Affect the pH or Water Chemistry - Safe for Children & Pets - Will Not Damage, Stain or Affect Equipment or Surface
Muscle Therapy Bath Salts -19 Oz- Therapeutic Natural Vitamin Crystals for Soaking Aches, Pains, Swelling & Stress Relief for Whirlpool


Beauty (Relax Spa & Bath)




Muscle Therapy - 19 Oz Bottle - All Natural, Therapeutic Bath Crystals - Perfect to Speed Recovery of Sore Muscles
Powerful Aromatherapy with Natural Coloring - Enhances Relaxation - Vitamin Enfused
Remedy for Aches and Pains - Reduce Tension & Stress - Enhance Self-Healing & Detoxify
For Spas, Hot Tubs, Jacuzzis, & Whirlpool Baths - Spa Safe - Will Not Damage, Stain or Affect Equipment or Surface
Does Not Affect the pH or Water Chemistry - Safe For Children & Pets - Skin Softening Moisturizers
Verbena Lime Coconut Aromatherapy Bath Crystals -19 Oz- All Natural Sea Salt Aroma Therapy for Jacuzzi, Whirlpool, Spa, Bath


Beauty (Relax Spa & Bath)




Verbena Lime Coconut - 19 Oz Bottle - All Natural, Therapeutic Bath Crystals - Escape To A Paradise of Coconut Lime
Powerful Aromatherapy with Natural Coloring - Enhances Relaxation - Vitamin Enfused
Remedy for Aches & Pains - Reduce Tension & Stress - Enhance Self-Healing & Detoxify
Skin Softening Moisturizers - For Spas, Hot Tubs, Jacuzzis, & Whirlpool Baths - Spa Safe
Does Not Affect the pH or Water Chemistry - Safe for Children & Pets - Will Not Damage, Stain or Affect Equipment or Surface

Rx Therapy Scented Aromatherapy Bath Salts-4 Oz Bottles, Pack of 8-Soak Aches, Pains & Stress Relief in Spa, Hot Tub or Whirlpool


Beauty (Relax Spa & Bath)




Rx Therapy, Package of 8 - 4 Oz Bottles - Relax, Breath & Soak in Relief
Powerful Aromatherapy with Natural Coloring - Enhances Relaxation - Vitamin Enfused
Remedy for Aches & Pains - Reduce Tension & Stress - Enhance Self-Healing & Detoxify
Skin Softening Moisturizers - For Spas, Hot Tubs, Jacuzzi, & Whirlpool Bath - Spa Safe
Does Not Affect the pH or Water Chemistry - Safe for Children & Pets - Will Not Damage, Stain or Affect Equipment or Surface

Original Aroma Therapy Scented Bath Spa Salt Crystals-4 Oz Bottles, Package of 4-Soak Aches, Pains in Hot Tub, Jacuzzi, Whirlpool


Beauty (Relax Spa & Bath)




The Original Way To Relax! - Enjoy the Original Crystal Collection - Pack of 4 Oz Bottles
Powerful Aromatherapy with Natural Coloring - Enhances Relaxation - Vitamin Enfused
Remedy for Aches & Pains - Reduce Tension & Stress - Enhance Self-Healing & Detoxify
Skin Softening Moisturizers - For Spas, Hot Tubs, Jacuzzi, & Whirlpool Bath - Spa Safe
Does Not Affect the pH or Water Chemistry - Safe for Children & Pets - Will Not Damage, Stain or Affect Equipment or Surface