Jacuzzi Hotels in Cape Town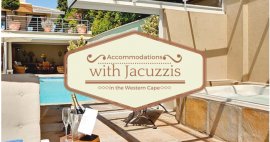 Weekends away should be full of all the best things in life like good company, bottomless drinks, roaring campfires, and long hours spent soaking in a hot, bubbly Jacuzzi. And luckily for you, we've rounded up our favourite accommodations where you can enjoy just that in the Western Cape! Which one is your favourite?
1. Woodenleg Guest House, Kleinmond
Woodenleg Guest House has 5 tasteful bedrooms in the striking Overberg district. They have a fantastic entertainment area with a swimming pool, bar, sauna, and Jacuzzi. There's also free Wi-Fi, a braai area, beauty clinic, wine cellar and restaurant.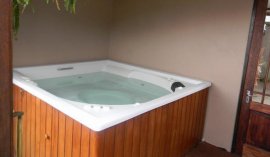 2. River Edge Accommodation, Rawsonville
River Edge Accommodation offers two 8 sleeper houses on the edge of the Breede River. Each house has a kitchen, living area with fireplace, and a large covered deck with a braai area and Jacuzzi.
3. Jacobsbaai Self Catering, Jacobsbaai
Jacobsbaai Self-catering is an 8 sleeper house just 200m from the beach. It has 3 indoor braai areas, a large kitchen, 2 living rooms, a bar, lapa with sea views, and a heated swimming pool with a Martini seat and spa jets. The spacious lawn is great for kids and pets.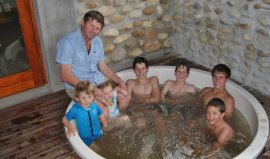 4. The One 8 Hotel, Cape Town
The One 8 Hotel is an elegant hotel in the heart of the CBD. Choose from a variety of double rooms, and enjoy use of the free Wi-Fi, gym, guest lounge, swimming pool, and Jacuzzi.
5. 23 Loader Street, Cape Town
23 Loader Street sleeps 2 people with a dining room, kitchen, living area with fireplace, and a glass walled bathroom. A walk up to the roof terrace reveals a Jacuzzi and superb views of Table Mountain and the harbour.
6. Mount Ceder, Cederberg
7. Olive Garden Country Lodge, Robertson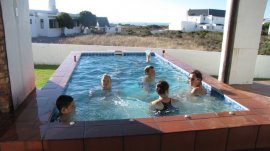 Olive Garden Country Lodge is situated in a secluded valley at the foot of the Langeberg Mountain. It has 2 – 4 sleeper suites, a bar, restaurant, braai area, swimming pool, and Jacuzzi.
8. The Snuggle Inn, St Helena Bay
The Snuggle Inn is a self-catering house that sleeps 4 people, but two chaise lounges can sleep an extra 2 kids under 12 years. The house has a living area with fireplace, a shared swimming pool, and an entertainment deck with a braai and Jacuzzi.
9. Allandale Farm, Citrusdal
Allandale Farm offers a 6 sleeper cottage on top of the Middleberg Mountains. Enjoy the beauty of 2 mountain streams, and facilities like a kitchen, fireplace, braai area, swimming pool, and a garden with a swing. There's also a 12 sleeper cottage.
You might also like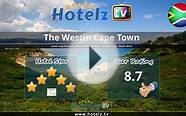 The Westin Cape Town Hotel - South Africa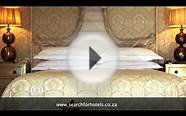 Cape Town Hotels|Hotels In South Africa|Searchforhotels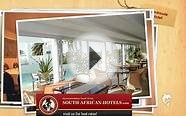 Peninsula Hotel, Cape Town
Mountain Valley Motel Thompsonville, Michigan Original Vintage Postcard


Entertainment Memorabilia (The Place, Inc)




Categories: US State & Town Views,Michigan,Thompsonville, Hotels
Type: Chrome
Size: 3.5 x 8.75 (9 x 23 cm)
Publisher: The Place, Inc